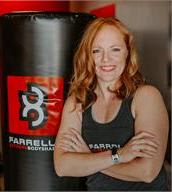 Andye Serflaten Lamm
My Farrell's journey started the summer of 2016. I walked in totally uncoordinated not knowing my right from my left. Let's be real, I still don't know my right from my left. But, one of the best things about Farrell's is that you don't have to be perfect. We strive to better ourselves each day, each workout, each movement. Consistent progress over time really adds up!!!
My Farrell's transformation story has been more mental than physical, even though I achieved amazing physical results as well. Joining Farrell's gave me the self confidence I didn't know I needed, accountability to be better to myself and for myself, to show up for my loved ones & myself. FXB Northwest is really a second home to me now. We are family that truly cares about one another.
I ultimately decided to become: 1st a coach, then an instructor, now a program director and owner because this program really does change lives!!!! I am greatly honored to be even a small part of someone's transformation with Farrell's.