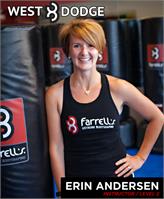 Erin Andersen
There are two powerful reasons I joined fxb. One is after my second baby I had gained quite a bit of weight. I had limited energy and was very unhappy. Prior to having my second I was going to a gym and loved the classes. However we moved and there did not seem to be a gym near by. A friend of mine, our kids play soccer together kept xo,I got the Saturday games with an fxb shirt and seemed so excited about her workouts. I finally took the plunge and went to a class. I loved it when I looked fxb up I found one near me. I drove right there and signed up that day. The second and more powerful reason was my dad had a stroke several years ago. He chose to opt out of. Y children's lives. I will NOT do that to my children!! I want them to have a happy and eventful lives!
I stay because I love the workouts, the instructors, how we challenge each other. But mostly I stay because of the people. It feels like a family, everyone cares, truly cares about each other, how we are doing, families, etc.
Like most people the nutrition has always been my biggest challenge! I know what to do and how to do it but often I get lazy and dont prepare like I should. The upside is I feel my best when I follow the nutrition and eat right. I feel myself getting stronger and working out harder!!
I have been at Farrell's for almost 4 years. I can't say that I have loved every moment when I am in it, but always after I am done! I am restful for the opportunity to change my and my families lives. The opportunity to teach allows me to give back even more than I have received!