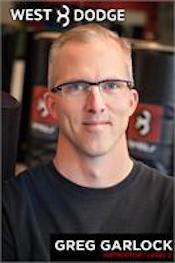 Greg Garlock
My FXB story is very similar to others that you've read or heard about.
After several years of not being diligent about working out, or not paying much attention to the food I put into my body, I was beginning to see the results of my decision-making . . . and I didn't like what I saw. I got to the point where I wasn't very excited about going to the swimming pool with my family because I really wasn't happy with the way I looked when I took my shirt off. I decided that I had two options: one, I could do nothing and cave in to the fact that I was in my 40's and that's just what happens to your body once you reach that age; or two, I could try to do something about it.
I decided that I wasn't ready to throw in the towel quite yet and would give myself a chance at getting back to a healthier lifestyle and body. About this same time, I heard a story on the radio one morning while driving to work about Farrell's. I hadn't even heard of FXB before that, but was intrigued enough by what I heard that I decided to look into it further. I got on the internet and noticed that several teachers at our daughters' school were instructors and coaches. For some reason that was very comforting, and I talked to my wife about her interest in giving FXB a shot with me. She, starting to feel the same way about herself and her body the way I was feeling about mine, immediately agreed and we decided to give it a try.
Like everybody else, I was terrified on Orientation Day. I hadn't run a mile in several years, I hadn't done any pushups or sit-ups in almost as long, and I wasn't sure what I had gotten myself into. Needless to say, that first day confirmed all of my worst fears: I had slumped as far, or farther, than I had expected. The bright side to that first day was that I had nowhere to go but up. I was determined to give it all I had for my 10-week session and see what happened. The next day, my wife and I went shopping for additional workout clothes and spent almost three hours at the grocery store trying to find things that would fit into our nutrition plans. Needless to say, having somebody beside me going through what I was about to go through was tremendously helpful.
My first day of kickboxing was eye-opening. I managed to make it through without getting sick or passing out, but I wasn't sure I was cut out for ten weeks of that type of intensity. My first day of resistance band training wasn't much better. But, my wife and I had made a promise to each other that we were going to give it all we had, so we pushed each other through the doubt.
For the first several weeks, I was not a big fan of kickboxing, and almost dreaded driving to class those mornings. I liked resistance bands better because, while difficult, they weren't as utterly exhausting. However, at about Week 7, I had an epiphany where I began to absolutely love kickboxing. I actually got to the point where I enjoyed the anticipation of those workouts much more that the resistance bands. Now, there is no better feeling in the world than walking out of the building after a kickboxing class, drenched in sweat and completely exhausted. It is exhilarating, and a great way to start out the day. Years after this revelation', I still feel this way about kickboxing and absolutely love it.
My 10-week session, way back in 2009, proved to me that FXB worksif you are serious about it and put forth the effort. I saw many positive physical changes to my body, my energy level improved, and I just felt a lot better about myself. I have been a FIT member ever since, and cannot imagine not being a part of this family. I also really enjoy getting to help other people on their journey to a healthier lifestyle by being an instructor and, in the past, a coach. It is incredibly rewarding to help people just like me reach their goals.