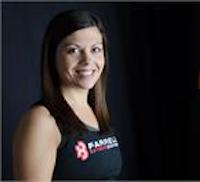 Janelle Risdon
Farrell's changed my life 7 years ago. Before Farrell's I was unsure as to what it meant to really live a healthy lifestyle. Before Farrell's I felt tired and sluggish, and I was at my heaviest weight of over 200lbs. Before Farrells I felt stuck in an unhealthy rut, not knowing what to do to change it. My sister and I came across Farrell's together, and decided it was time to try something new, so we jumped into the Fall 2012 10-Week session at FXB Midtown in Omaha.
When I began the program in 2012, I was working full-time as a classroom teacher and I was a wife, and mother of two sons under 3. I was 28 years old at the time, and I have always been an optimistic person, but during this time in my life I recall feeling stressed and unhappy with myself. A vivid memory and strong personal why behind me wanting to make a change was when I would be winded each day just walking up the two flights of elementary school stairs. I knew it was time to make a change in my lifestyle. I was determined to give the 10-week challenge my all! During my Farrell's 10-Week challenge I was told that I had to change my mind to change my body...so that is what I did. I came to class 57 of the 60 classes offered, and I worked at my "level 10" each and every day. I planned my meals and logged my food everyday. By working hard and following the 10 week program, I lost over 25 lbs., dropped my body fat percentage about 5%, lost numerous inches all around my body in those short 10-weeks! My clothes were loose and began falling off, and I felt SIMPLY AMAZING! I truly had a whole new outlook on life! I had a new zest to be more active with my family, and I felt clearer minded, and was just so much HAPPIER! After that 10-weeks I knew Farrells was going to be a part of my life for years to come! Farrells gave me everything that I needed to hold myself accountable for my new lifestyle, and Farrell's quickly became a second family to me. Since 2012, I have gone on to have a two more sons, and I have now been the FXB Midtown Owner/Operator since April 2014. I LOVE my job! I get to help change people's lives by introducing and teaching people the Farrells way of living. This program is truly designed to change lives, and I love embracing the lifestyle personally, and with my family while also helping others do the same!
If you want to embrace or maintain a healthy lifestyle, then Farrells is the answer. Our program offers all of the tools and accountability needed to be successful in living your life at your level 10 potential. With our program you will gain access to our empowering community and class-time nutrition coaches. To achieve your best results, we encourage you to show up to class and log your food 6/days a week, and just try YOUR best each and every day! Farrell's has a100% Money Back Guarantee, because IT WORKS! It is not easy, and it will take hard work, and determination, but the results will leave you looking and feeling great! The hardest part is starting, but once you start our community and tools will stand behind you and your goals!