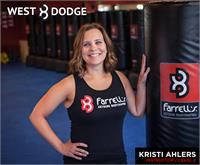 Kristi Ahlers
I started my Farrell's journey in 2010. My local gym closed its doors a few months prior and I had been working out at home. My routine became monotonous and boring and I found that it was getting harder and harder to make the trip down to the basement to workout. I was sitting on my couch trying to get motivation to hop on the elliptical when I saw an ad on television for Farrell's 10 week program. I had done kickboxing in the past and enjoyed it, so I thought it would be a good fit. Little did I know that it was going to fit me so well that I would be disappointed when I had to miss a day. My initial plan was to do the 10 weeks and be done, but when my session was over, I couldn't imagine not going any more.
I had formed real relationships with the people there. Not only was I getting a good workout, but I was developing a home away from home with people all working towards the same goals. We wanted to be happy and healthy and Farrell's was helping us achieve this. The changes for many were not just physical, but emotional as well. I decided to become a FIT member and wanted to help other people with their transformations. I became an instructor and realized I liked helping others attain their goals even more than I enjoyed reaching my own.
If you want to become part of a gym where the owner knows your name and actually cares about the results you achieve from working out there, Farrell's will be a great place for you. The instructors, coaches, and other students will be able to guide you during your journey. You are never in it alone. People are there to help you succeed.
I can't thank my Farrell's family enough for everything they have done for me over the years. I am truly grateful for the friendships I have made and the help I have received. I am beyond thankful that I decided to take the Farrell's journey.