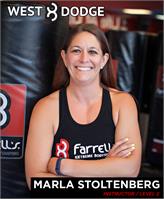 Marla Stoltenberg
My FXB journey began in March 2010. I wasn't quite sure what I was getting myself into, but my BFF swore by the program. I figured I had nothing to lose, so why not? Boy was I in for a rude awakening. I had been through other fitness programs before so I figured FXB wouldn't be much different. After my first kickboxing class, I couldn't believe how out of shape I really was. I knew I had a lot of work to do over the next 10 weeks. Not only did I lose weight, lower my body fat and increase my endurance, I also gained a tremendous amount of knowledge about proper nutrition. And I developed a lot more self confidence.
It took me a few years of being a FIT student before I became a coach/instructor. I joined the West Dodge staff in 2012 and have never looked back. I love being a part of people's life style changes. There is no greater feeling than seeing a 10 week student shave time off their mile run, or increase their push-up and sit-ups and seeing that glow' on their faces. I love challenging them with new and intense work-outs, forcing them out of their comfort zones.
Since joining FXB, I was able to run my first half marathon in 2015 and I'm currently training for my 2nd. And I'm also working on obtaining my Level III instructor certificate. Thanks to FXB, I have a wonderful group of friends and family that make working out everyday enjoyable.