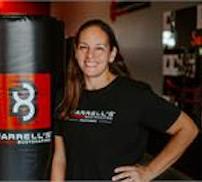 Melissa Bildt
My Farrell's journey began in January of 2017. After spending several years being unhappy with my weight and self esteem I finally admitted to myself that I couldn't do it alone.
My first 10 weeks with the program was amazing so I decided to stick around and see it through. The sense of family, community and accountability is second to none. This is not a show off gym like others I had been to in the past and when I joined I had no kickboxing experience.
I was asked to coach a team for 2 different sessions and I absolutely loved the "giving back" part that the gym had done for me. I have been instructing for 2 1/2 years now and I never would have seen myself getting up in front of people before I stepped foot through the doors the first time (which is the hardest part).
Fast Forward - I recently became a FCL (Fit Community Leader)/Owner and Head Coach for my Northwest location and I'm so excited to continue to give back to this program and help everyone who sets foot in our gym for the first time. I can't wait to see where your Farrell's journey will take you. Let's do this together!